BMW M1 Procar, a Racing Icon.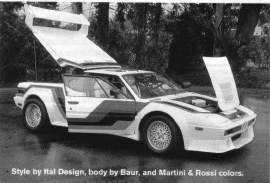 While BMW's exotic midengine car, the M1, was never officially imported into the United States, it serves as an interesting footnote to BMWs proud heritage. Street cars are often turned into racing cars, but it's less common for a car designed for racing to be tamed for the street.
While BMW enjoyed quite a bit of success with its 3.OCSi racing car in the mid-'70s, it realized something faster was needed to triumph in the hotly contested World Championship for Manufacturers. BMWs M88 twincam, inline six had already been developed into a potent powerplant; they were reliably posting more than 700 hp on the dyno. To be eligible for competition in the Manufacturers series, BMW needed to produce 400 units in a production car.
BMW turned to Giorgio Giugiaro's Ital Design firm to take the 1972 BMW Turbo show car from a dream into a shape capable of meeting the myriad requirements of street duty. Initially, a partnership with Lamborghini was formed to help with development work and to tune the suspension. Unfortunately for Lamborghini, with their financial troubles at the time, the project returned to Germany.
BMW selected Stuttgart coachbuilder Baur, who had the expertise to bring the M I from prototype to the sales floor, so Baur built the bodies and installed the BMW manufactured drivetrain. BMW also decided the 3453cc engine should be produced with 277 hp, enabling the M1 to get from 0 to 60 in 5.4 seconds on its way to a 161 mph top speed.
The fourvalves percylinder engine breathed through Kugelfischer fuel injection, used a 9.5 to 1 compression ratio, and proved to be quite tractable. ZF provided the fivespeed transaxle.
By the time the M1 started production late in 1978, the rules were clarified to state that a car would be eligible for the Manufacturers series after at least 400 examples were not just produced, but sold to the public. At 100,000 deutsche marks (approximately $55,000), it would be 1981 before enough were sold so that the Ml could be launched into competition. By then, the M1 was outdated.
However, a stroke of marketing genius on the part of BMW Motorsport chief Jochen Neerpasch allowed the M I to race on the Continent. He conceived a plan to bring credibility to the M1 program through a one-marque series that would be run as a support race on the same day as Grand Prix races. FISA accepted the idea, and in 1979 BMW coaxed many Forrnula One drivers into these modified M1s for the so-called Procar Series.
Approximately 40 to 50 identical Mls were prepared for the series. These models received a deep front spoiler, aerodynamic body sills, a rear spoiler and wide fender flares. Power output of the modified engines was said to be between 470 hp and 500 hp. Rounds were conducted at such familiar tracks as Monaco, Monza, Silverstone and Hockenheim, in addition to former Grand Prix hotbeds of competition such as Zolder, Zeltweg and Zandvoort. Niki Lauda took the Procar crown in 1979 and in 1980 Nelson Piquet picked up the championship.
Although a total of 456 (or 457) M1s were built between 1978 and 1981, the fame and publicity went to the Procars, and these were featured in the press and on posters. A number of original cars have been modified with the Procar flares and spoilers, the Martini & Rossi tri-color paint scheme, more comfortable interiors, and engine/chassis modifications. The Procar was, and is, a racing icon.
The car illustrated was produced as a street car, serial # 85, and modified in Germany. Mike Covello wrote about it in a recent Autoweek article, for which we are indebted for many of these notes. Another example, reported on by Jay Jones in a 1992 article in European Car, was modified in San Diego. It was solid white with a larger, more authentic looking rear spoiler.

---
An American Icon ­ The Duesenberg J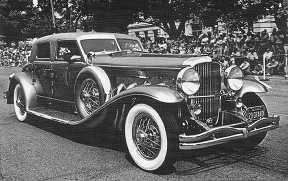 A situation similar to the Procar
It's interesting to note that an American icon of the classic era, the Model J Duesenberg, was
originally planned as a 500 car First Series when introduced at the New York auto show in December, 1928. The timing could not have been worse, since the stock market crashed eleven months later, and the country slipped into the great depression. All cars had custom bodies on a magnificent chassis powered by a DOHC, 420 cid straight 8 producing 265 HP. Wheelbase was 142 1/2 or 153 1/2". (Two considerably shortened 125" supercharged coupes were built for Gary Cooper and Clark Gable.) Supercharging became available in 1932, and raised horsepower to 320, for which the factory claimed top speeds of 104 mph in second, and 129 mph in third (top) gear. These cars were designated SJs, identified by their outside, chromed, flexible exhaust pipes.
Duesenberg never finished the First Series, going out of business in 1937, after fewer than 400 cars had been finished. From 1933 on, most factory work was in upgrading and modifying existing Js. Only 36 supercharged Duesenbergs were originally built by the factory, but like the situation with the M1 Procar spoilers, the flexible exhaust pipes of the supercharged cars became popular, and so many owners had their cars retrofitted with the new look, supercharged or not, that over the years it became impossible to tell a J from an SJ merely by looking at the pipes. The 36 original cars fitted with flexible pipes had grown to dozens, most supercharged, some not. The same situation prevailed with the 810 and 812 (supercharged) Cords of 1936 & 37. You really have to raise the hood to tell.
Cars may change dramatically, but people don't.
Pictures are of the M1 Procar described above, and the '33 Duesenberg SJ "20 Grand," now in the Nethercutt collection.